 Atom, a free Tailwind CSS portfolio template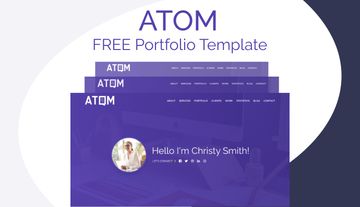 ⭐ Fully updated to Tailwind CSS v3 and Alpine.js v3
Atom is a Portfolio HTML Template made with the latest technologies like Tailwind CSS, Alpine.JS, among others and based on a vibrant and creative design.
# Key Features
2 Responsive Pages (Homepage and Post page)
Code Syntax Highlighting
Made with Tailwind CSS and Alpine.js
# [2.0.0] - 2022-02-27
# Added
Tailwind CSS prettier plugin
NPM script to use the new prettier plugin
# Changed
Updated to Tailwind CSS v3
Updated to Alpine v3
Updated all other dependencies.
# Removed
Removed postcss-nested package in favor of Tailwind CSS's nesting plugin
# [1.0.0] - 2021-04-26
First version of the template.
Save time, code less.
Get a head start on your next project!
Check our templates
We offer a 30-day money-back guarantee, no questions asked.
© 2023. Red Pixel Themes. All Rights Reserved.