 Podcast, a modern Tailwind CSS podcast template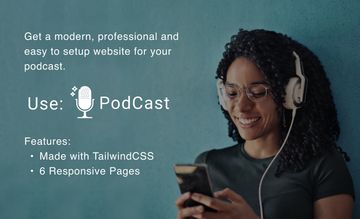 ⭐ Uses Tailwind CSS v3 and Alpine.js v3
Podcast is a premium template with a beautiful design, tailored specifically for podcast websites. It was made with the latest technologies like Tailwind CSS, Alpine.JS and includes all the needed features to create an incredibly fast responsive website with an amazing UI/UX experience.
Furthermore, this template automatically adjusts to all screen sizes and browsers so your content will always look the best no matter the device. You will be able to easily customize it to fit your needs.
# Key Features
6 Responsive & Mobile Ready Pages
Made with Tailwind CSS and Alpine.js
# [1.0.0] - 2022-03-09
First version of the template.
Save time, code less.
Get a head start on your next project!
Check our templates
We offer a 30-day money-back guarantee, no questions asked.
© 2023. Red Pixel Themes. All Rights Reserved.